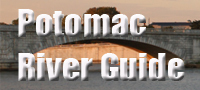 Potomac River Monitoring Sites
Water levels are monitored by USGS. Stream gages feed data to a national system that allows real-time data to be displayed. In addition, sophisticated forecasting systems are avaialble for a number of sites from the National Oceanographic and Atmospheric Administration (NOAA). Click on a marker or choose a site below for details.
Potomac River Monitoring Sites
Alexandria Founders Park
Antietam Creek Near Sharpsburg MD
Cacapon River USGS Gage
Chesapeake Bay Interpretive Buoy
Conococheague Creek at Fairview MD
Georges Creek
Little Falls
Little Seneca Creek Near Clarksburg
Mattawoman Creek Near Pomonkey MD
Monocacy River and Water Trail
North Branch at Barnum WV
North Branch at Cumberland
North Branch at Luke
North Branch Potomac River at Kitzmiller MD
North Branch Potomac River at Steyer MD
Paint Branch near Colesville MD
Piscataway Creek at Piscataway
Potomac River at Hancock MD
Potomac River at Lewisetta VA
Potomac River at Paw Paw WV
Potomac River at Point of Rocks
Potomac River at Wisconsin Ave.
Rock Creek at Sherrill Drive
Savage River Reservoir
Seneca Creek at Dawsonville
Sideling Hill Creek Near Bellegrove MD
St. Marys River at Great Mills
Tonoloway Creek Near Hancock
Town Creek Near Oldtown MD
Wills Creek Near Cumberland MD
Potomac River Monitoring Sites
Water levels are monitored by USGS. Stream gages feed data to a national system that allows real-time data to be displayed. In addition, sophisticated forecasting systems are avaialble for a number of sites from the National Oceanographic and Atmospheric Administration (NOAA). Click on a marker or choose a site below for details.

Alexandria Founders Park
Antietam Creek Near Sharpsburg MD
Cacapon River USGS Gage
Chesapeake Bay Interpretive Buoy
Conococheague Creek at Fairview MD
Georges Creek
Little Falls
Little Seneca Creek Near Clarksburg
Mattawoman Creek Near Pomonkey MD
Monocacy River and Water Trail
North Branch at Barnum WV
North Branch at Cumberland
North Branch at Luke
North Branch Potomac River at Kitzmiller MD
North Branch Potomac River at Steyer MD
Paint Branch near Colesville MD
Piscataway Creek at Piscataway
Potomac River at Hancock MD
Potomac River at Lewisetta VA
Potomac River at Paw Paw WV
Potomac River at Point of Rocks
Potomac River at Wisconsin Ave.
Rock Creek at Sherrill Drive
Savage River Reservoir
Seneca Creek at Dawsonville
Sideling Hill Creek Near Bellegrove MD
St. Marys River at Great Mills
Tonoloway Creek Near Hancock
Town Creek Near Oldtown MD
Wills Creek Near Cumberland MD