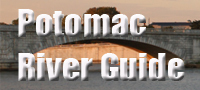 Savage River Reservoir
Maryland River
Trout fishing has returned to the Savage River, after extensive repairs to the Savage River Dam in 2010.
In 2007, one of the dam's gates failed to operate. Further inspection revealed extensive corrosion. Using $3.9 million of Recovery Act funding through the Maryland Department of Natural Resources, the reservoir was drained and the gates were successfully repaired in early 2010. The "trophy area" for trout fishing below the dam has gradually recovered from the flushing and refilling of the reservoir.
An unpolluted mountain stream of the North Branch basin, Savage River has been treasured by residents of Garrett County for its clear water. A reservoir five miles up the Savage River Road from Bloomington is used for boating, fishing, swimming, and domestic water supply. Big Run State Park, at the headwaters of the lake, has public facilities. The river below the dam is a popular location for whitewater canoe competitions. The Upper Potomac River Commission, which owns and operates the dam, supplies the correct amount of water for competitions each spring. The original dam was built in 1952 by the Army Corps of Engineers for flow control on a 5.5 mile stretch of this tributary of the North Branch.
Monitoring of the Savage River Reservoir began in 1948, shortly before the dam was built. The area monitored has a drainage of approximately 105 square miles. Current stream conditions are shown in the graph below:
The National Oceanic and Atmospheric Administration (NOAA) has an on-line river forecast service summarized below.
Savage River Reservoir Level
Below the Savage River Dam
Click here for detailed USGS data for this site.
Nearby Potomac River Stream Monitors

Upstream

Downstream
Suggested Links
Contact Information
Md. Dept. of Natural Resources
127 Headquarters Lane
Grantsville MD 21536
301-895-5759
Website