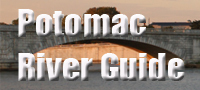 Antietam Creek Near Sharpsburg MD
USGS Streamflow Monitor

Antietam Creek is a scenic and historic creek that flows through the Antietam National Battlefield. The section below Maryland Route 68 is a popular whitewater spot for canoes and kayaks. It is rated at level I or II for difficulty by American Whitewater. Click here for more paddling information on Antietam Creek.
The Antietam Creek Canoe Co. website has extensive information about canoe and kayak trips through the Antietam Creek area. The most popular trip is from the Devil's Backbone area through Antietam Battlefield to the Burnside Bridge and Potomac River take-out point. The trip is about 8 miles and usually takes aproximately four hours.
The recommended minimum flow level for this section of the creek is 2.5 feet at the USGS gage. Federal and state agencies maintain river level monitors throughout the Potomac River Basin. The U.S.Geological Survey compiles real-time information from river monitors, in cooperation with the U.S. Army Corps of Engineers.
Current stream conditions are shown in the graph below:
The National Oceanic and Atmospheric Administration (NOAA) has an on-line river forecast service.
For real-time data on this site, select this link.
Nearby Potomac River Stream Monitors

Upstream

Downstream
Suggested Links
Contact Information
U.S. Geological Survey
5522 Research Park Drive
Baltimore MD 21228
443-498-5500 e
Website