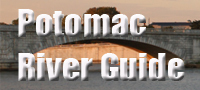 Rock Creek at Sherrill Drive
River Monitoring Site

Federal and state agencies maintain river level monitors throughout the Potomac River Basin. The U.S.Geological Survey compiles real-time information from river monitors, in cooperation with the U.S. Army Corps of Engineers and the National Oceanic and Atmospheric Administration (NOAA).
The USGS monitoring site near Sherrill Road in Rock Creek Park has been recording data since 1929. Flow in the creek is affected by two upstream reservoirs, Lake Needwood on Rock Creek since Sept. 1966 and Bernard Frank Lake on North Branch Rock Creek since February 1968.
Current stream conditions are shown in the graph below:
For realtime data on this site, select this link.
Nearby Potomac River Stream Monitors

Upstream

Downstream
Suggested Links
Contact Information
U.S. Geological Survey
5522 Research Park Drive
Baltimore MD 21228
443-498-5500
Website