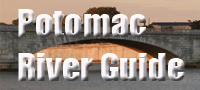 The North Branch
The source of the Potomac is generally considered to be the Fairfax Stone, located in Garrett County at the tip of Maryland's southwestern corner. The North Branch drains an historic valley that has recovered dramatically from the ravages of coal mining. Click on a marker or choose a site below for details.
North Branch Potomac Sites
Abandoned Bridge at Bloomington, MD
Allegany County Fairgrounds Boat Ramp
Allegany County, MD
B&O Railroad Bloomington Viaduct
Battie Mixon's Fishing Hole
Bayard Bridge (closed)
Bayard, WV
Big Run Boat Ramp
C&O Canal Terminus
CSX Railroad Bridge at Oldtown, MD
CSX Railroad Bridge near Kitzmiller, MD
Cumberland
Cumberland Blue Bridge
Dans Mountain State Park
Dans Mountain Wildlife Management Area
Elk Garden, WV
Evitts Creek
Evitts Creek Hiker Biker Campsite
Fairfax Stone
Fairfield Inn Cumberland
Garrett County
Gary Yoder/Black Oak Boat Access
Georges Creek
Grant County
Great Allegheny Passage
Henry, WV
Holiday Inn Cumberland-Downtown
Iron Mountain Hiker Biker Campsite
Jennings Randolph Boat Ramp
Jennings Randolph Lake
Kempton
Kempton Bridge
Keyser, WV
Kitzmiller
Low Water Bridge at Oldtown, MD
Luke Mill
McCoole Boat Access
Md. 38 Bridge at Kitzmiller, MD
Md. 956 Bridge at Rocket Center, MD
Mineral County
New Creek
NewPage Bridge
North Branch at Barnum WV
North Branch at Cumberland
North Branch at Luke
North Branch Potomac River at Kitzmiller MD
North Branch Potomac River at Steyer MD
Oldtown
Pigmans Ferry Hiker Biker Campsite
Potomac Forks Hiker Biker Campsite
Potomac State College
Potomac State Forest
Queen City Creamery
Rocky Gap State Park
Rocky Gap State Park Boat Ramp
Savage River Reservoir
Savage River Reservoir South
Savage River State Forest
Spring Gap Boat Ramp
Stony River
Town Creek Near Oldtown MD
Treatment Plant Bridge at Westernport, Md.
U.S. 220 World War II Memorial Bridge at Keyser, WV
U.S. 50 Bridge at Gorman, MD
Warrior Mountain Wildlife Management Area
Western Maryland Railroad Bridges Near Dawson Md.
Western Maryland Railway 21st Railroad Bridge
Western Maryland Railway 7th Crossing
Western Maryland Railway 8th Crossing
Western Maryland Railway 9th Crossing
Western Maryland Railway Bridge Near Bloomington, MD
Western Maryland Scenic Railroad
Western Maryland Scenic Railroad Bridge
Westernport
Westernport Boat Ramp
Wills Creek Near Cumberland MD
Wilson Bridge at Wilson, MD
Wind Turbines
WV 28 Canal Parkway Bridge at Cumberland, MD
WV 46 Bridge at Westernport, MD
The North Branch
The source of the Potomac is generally considered to be the Fairfax Stone, located in Garrett County at the tip of Maryland's southwestern corner. The North Branch drains an historic valley that has recovered dramatically from the ravages of coal mining. Click on a marker or choose a site below for details. Abandoned Bridge at Bloomington, MD

Allegany County Fairgrounds Boat Ramp

Allegany County, MD

B&O Railroad Bloomington Viaduct

Battie Mixon's Fishing Hole

Bayard Bridge (closed)

Bayard, WV

Big Run Boat Ramp

C&O Canal Terminus

CSX Railroad Bridge at Oldtown, MD

CSX Railroad Bridge near Kitzmiller, MD

Cumberland

Cumberland Blue Bridge

Dans Mountain State Park

Dans Mountain Wildlife Management Area

Elk Garden, WV

Evitts Creek

Evitts Creek Hiker Biker Campsite

Fairfax Stone

Fairfield Inn Cumberland

Garrett County

Gary Yoder/Black Oak Boat Access

Georges Creek

Grant County

Great Allegheny Passage

Henry, WV

Holiday Inn Cumberland-Downtown

Iron Mountain Hiker Biker Campsite

Jennings Randolph Boat Ramp

Jennings Randolph Lake

Kempton

Kempton Bridge

Keyser, WV

Kitzmiller

Low Water Bridge at Oldtown, MD

Luke Mill

McCoole Boat Access

Md. 38 Bridge at Kitzmiller, MD

Md. 956 Bridge at Rocket Center, MD

Mineral County

New Creek

NewPage Bridge

North Branch at Barnum WV

North Branch at Cumberland

North Branch at Luke

North Branch Potomac River at Kitzmiller MD

North Branch Potomac River at Steyer MD

Oldtown

Pigmans Ferry Hiker Biker Campsite

Potomac Forks Hiker Biker Campsite

Potomac State College

Potomac State Forest

Queen City Creamery

Rocky Gap State Park

Rocky Gap State Park Boat Ramp

Savage River Reservoir

Savage River Reservoir South

Savage River State Forest

Spring Gap Boat Ramp

Stony River

Town Creek Near Oldtown MD

Treatment Plant Bridge at Westernport, Md.

U.S. 220 World War II Memorial Bridge at Keyser, WV

U.S. 50 Bridge at Gorman, MD

Warrior Mountain Wildlife Management Area

Western Maryland Railroad Bridges Near Dawson Md.

Western Maryland Railway 21st Railroad Bridge

Western Maryland Railway 7th Crossing

Western Maryland Railway 8th Crossing

Western Maryland Railway 9th Crossing

Western Maryland Railway Bridge Near Bloomington, MD

Western Maryland Scenic Railroad

Western Maryland Scenic Railroad Bridge

Westernport

Westernport Boat Ramp

Wills Creek Near Cumberland MD

Wilson Bridge at Wilson, MD

Wind Turbines

WV 28 Canal Parkway Bridge at Cumberland, MD

WV 46 Bridge at Westernport, MD