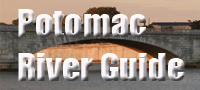 Cacapon River USGS Gage
West Virginia Tributary

One of the most beautiful streams in the Potomac system, this 112-mile river has been considered for inclusion in the National Wild and Scenic Rivers System, but local opposition to federal planning and land acquisition has thwarted plans. .
For more information on whitewater in this area, select this link. Recommended minimum level for canoeing and kayaking is 2.0 feet at the Capon Bridge gage.
Current stream conditions are shown in the graph below:
The U.S. Geological Survey (USGS) has a streamflow monitor on the Cacapon River. For current information on river flow, select this link.
Nearby Potomac River Stream Monitors

Upstream

Downstream
Suggested Links
Contact Information
Friends of the Cacapon River
P.O. Box 321
Great Cacapon WV 35422
304-947-7590
Website