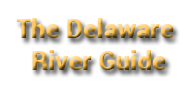 Interactive Maps
Thematic Maps
Search Delaware Sites
Bowmans Hill Tower
Park
Rising 125 feet in the air atop Bowman's Hill and offering a 14-mile view on a clear day, Bowman's Hill Tower is a favorite stop for locals and tourists alike.
The Tower is located near the corner of Rt. 32 (River Road) and Lurgan Road, a few miles south of New Hope, PA. The Tower may be visited on its own or as part of a combination ticket when visiting other attractions in the park.The tower was built of local field stone in 1929-31 to commemorate what may have been a lookout point for Washington's troops to watch for enemy activity on the Delaware River. Today, historians consider using Bowman's Hill for a lookout to be more oral tradition than documented fact, however.
Construction of the Tower took nearly two years to complete. More than 2,400 tons of materials were used, including 1,200 perches of native stone from the hill and nearby stone fences, cut stone from local quarries, 517 tons of sand and 225 tons of cement. Workers excavated 15-feet deep so that the 24-foot-squared base would rest on a bedrock foundation. With construction done entirely by the Washington Crossing Park Commission employees, the total cost of the Tower was $100,000, including labor and materials.
Yelp reviews for this site are shown below.
Read Alex H.'s review of Bowman's Hill Tower on Yelp
Suggested Links
Contact Information
Washington Crossing Historic Park
1635 River Road
New Hope PA

Website