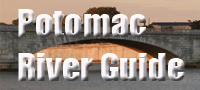 Elizabeth Mills Riverfront Park
River Access Point

Carry-in site for non-motorized boats allows acccess to Goose Creek and the Potomac. Part of the Loudoun County section of the Potomac Heritage National Scenic Trail.
Kephart Bridge Landing is the canoe and kayak launch facility located within Elizabeth Mills Riverfront Park at 43942 Riverpoint Drive. The landing is accessed from Riverpoint Drive. From the park, take Squirrel Ridge Drive back to Riverpoint Drive. Turn right. Continue on Riverpoint Drive and cross over Upper Belmont Place. The entrance to the landing will be on the left. From the Belmont Ridge Road entrance, cross over Riverside Parkway, turn left onto Riverpoint Drive.
The Elizabeth Mills area includes the ruins of the canal system called the Goose Creek and Little River Navigation, a canal that carried boats around the rapids on Goose Creek and allowed connection to the Potomac and other canals.
Yelp reviews for the Elizabeth Mills Riverfront Park are shown below. Read Omar B.'s review of Kephart Bridge Landing on Yelp
Suggested Links
Contact Information
Loudoun County Government
43942 Riverpoint Drive
Leesburg VA 20176
703-777-0343
Website