New Rumsey Bridge at Shepherdstown, WV
Potomac River Highway Bridge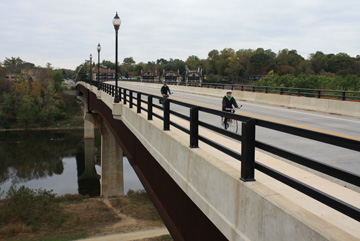 The New James Rumsey Bridge replaced an adjacent 1020-foot long Wichert Truss bridge, one of the last remaining in the U.S. The new bridge replaced the old bridge in 2004. The site is near where British and German prisoners were marched across the Potomac enroute to prison in Maryland. During the Civil War, the Army of Northern Virginia withdrew into Virginia after the Battle of Antietam.
Nearby Potomac River Crossings

Upstream

Downstream
---
Add your comments below.
Contact Information
Sharpsburg Maryland State Highway Administration
1251 Vocke Road
LaVale MD 21502
301-729-8403
Website