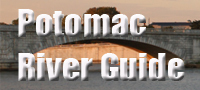 Pennyfield Lock
National Park Service Historic Site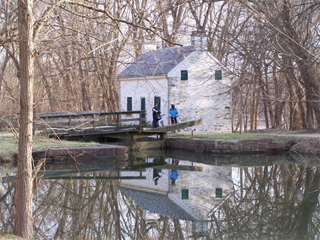 At canal milepost 19 is Pennyfield Lock, a favored spot for fishing expeditions by President Grover Cleveland. Cleveland spent time in Pennyfield's inn, a white frame house near the lock. The home was built in 1879 as a residence for a lock keeper, but fell into disrepair and was demolished in 2009.
Land around Blockhouse Point, at a turn in the Potomac above Pennyfield Lock, is preserved as an undeveloped conservation area by the Maryland National Capital Park and Planning Commission, a regional agency formed by Montgomery and Prince George's counties. A boat launching ramp for small boats is located at the parking area for Pennyfield Lock. Boats may enter Muddy Branch and go through a stone viaduct under the canal for access to the Potomac.
Pennyfield Lock, part of the C&O Canal National Historic Park, is accessible from Pennyfield Lock Road, left off River Road about 6 miles west of Potomac Village in Montgomery County, Md.
The lockhouse at Pennyfield Lock has been rehabilitated and available for overnight visits through the "Canal Quarters" program operated by the C&O Canal Trust. The building is unheated, with no heat or electricity. It reflects the early history of the canal. For information on renting Lochouse 22,. For more information on the Canal Quarters program, select this link.
Suggested Links
Contact Information
Maryland National Capital Park and Planning Comm
9500 Brunett Ave.
Silver Spring MD 20901

Website