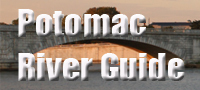 Anglers Inn - River Access
Canoe/Kayak Access Point

This is a very popular site for kayakers and hikers. Best access for paddlers if through an NPS gate at the lower parking lot. Boats need to be carried across a bridge and down to the river.
The parking area is designed to handle more than 20 vehicles . Access here was closed for several years due to extensive damage from hurricanes, but it has recently reopened.
For the latest closure information from the National Park Service, select this link.
Suggested Links
Contact Information
National Park Service
10801 MacArthur Boulevard
Potomac MD 20854
301-779-4200
Website