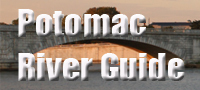 Arland D. Williams Memorial Bridge at 14th St.
Potomac River Highway Bridge

This is the original "Rochambeau Bridge", it was renamed after one of the people who rescued passengers from the Air Florida crash in 1982. The bridge carries four lanes into Washington from Arlington, Virginia. It was completed in 1950. The Boeing 737 airliner crashed into the bridge and killed four motorists on the bridge, as well as 75 passengers and crew on the plane. The bridge included a drawbridge, but that was removed when the bridge was redecked in 1975.
Nearby Potomac River Crossings

Upstream

Downstream
Suggested Links
Contact Information
District of Columbia Department of Transportation

DC

Website