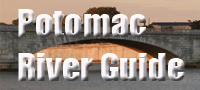 Potomac Riverwatch: Summer 2021
NEWS
Sturgeon Siting--
A shortnose sturgeon--a rare relic of the prehistoric Potomac--was caught on the Potomac near Fletcher's Boathouse in April. The catch was the first documented siting of a sturgeon in the Potomac since 2009. Shortnose sturgeon spend most of their time in freshwater rivers, unlike the larger Atlantic sturgeon, which spawn in rivers but live mostly in the ocean. Anglers Josh Cohn and Connor Lynch returned the sturgeon to the Potomac after taking several photographs.
Details
Mattawoman Creek Controversy--Developers are planning to convert an airport into a mixed use development in Charles County, Maryland. Local groups have objected to the proposal, which would involve clearing forests and harm the Mattawoman Creek, a prime habitat for fish, birds, and wildlife.More information.
Plans for the Alexandria Generating Station--For decades, a coal power plant on the Potomac in Alexandria generated electricity for the Capitol and other Washington landmarks. The plant closed in 2012 and sits idle near some prime real estate along the river. A developer purchased the 20-acre site in 2020 and is planning a major redevelopment. Original owner Pepco is planning to keep an electrical substation at the location. Details
Bringing Back the Age of Steam--With the COVID-19 pandemic abating, there are many signs of life along the Potomac. One of the most anticipated will the the debut this summer of Western Maryland Railroad's locomotive 1309, after a painstaking restoration. Details.
Suggsted Links