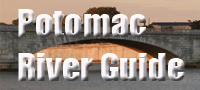 Potomac Riverwatch: July 2017
NEWS
The U.S. Coast Guard is changing its policy that involves closing a 2-mile stretch of the Potomac River near the Trump National Golf Course, directly across the river from Seneca, MD. The establishment of a "Security Zone" around the golf course, owned by President Donald Trump, would have effectively close access to Violette's Lock on the C&O Canal in Maryland and the Virginia Canal on the Potomac, a popular whitewater canoeing site. Protests from users of the Potomac, including veterans groups, educational organizations, and others, helped sway the Coast Guard, which said that as long as users stay on the Maryland side of the river, they can continue to use small boats on the Potomac. Still unclear is how the Coast Guard will handle use of the Virginia Canal, sometimes called the
Seneca Falls Canal,
which is closer to the golf course on the Virginia side of the river. The Canoe Cruisers Association has been leading the opposition to the proposal.
Details
EVENTS
June - September 24, Potomac RiverPalooza -- This season-long event provides a wide range of on-the-water and paddling events with the Potomac and Shenandoah Riverkeepers and in partnership with the region�s outfitters.exhibits, arts and crafts, and events for kids. July events include a Paw Paw Bends float trip and river camping, and a Shenandoah River fishing trip. Details
Canal Boat Tours, Williamsport, MD -- The C&O Canal offers free boat tours in an electric launch from Memorial Day through Labor Day . Reservations are recommended. Tours are given Wednesday-Sunday, 11 am and 2pm. Boat tours are limited to 12 people. More information.
July 15 - 22, Lotus and Water Lily Festival -- Kenilworth Park and Aquatic Garden in Northeast DC will celebrate global culture in the wild wetlands at the week long 2017 Lotus and Water Lily Festival! Kenilworth Park is the only national park dedicated to growing aquatic plants for fun. The event offers FREE activities for the whole family. Details
July 21-23, Berkeley Springs State Park -- The "Brokedown Floatdown Music Festival" includes a full night of music featuring the Brokedown Hustlers and Friends followed by a morning with a long float trip down the Potomac. Details.