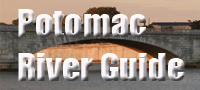 Four Locks
Maryland Historical Site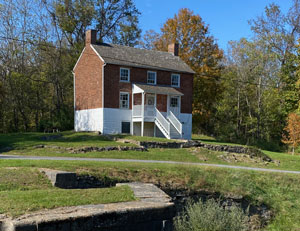 At canal mile 110, the Park Service has a boat ramp and bulletin board near the lock house at Lock 49. Four locks are located within a quarter mile along the canal here. This is a good location for picnics along the canal. Four Locks is also the site of a park ranger station. At canal mile 111 (McCoy's Ferry), the C&O Canal has a drive-in campground, picnic area, and boat ramp. The campground is open year-round.
Four Locks was once a thriving community of homes and businesses supporting the canal. In 1836, a one-mile shortcut was built for the canal to avoid a four-mile loop in the Potomac. The shortcut required the construction of four locks to handle a 32-foot difference in elevation. Lock houses, a mule barn (now restored), general stores, warehouses, and a drydock for boat repair were built along this section of the canal. Because it was approximately half way between Cumberland and Washington, canal boats frequently stopped here for repairs and supplies. Several families, including the Taylors, Flynns, and Hassetts had homes here for several generations during the canal era.
The lockhouse at Four Locks (Lock 49) has been rehabilitated and available for overnight visits through the "Canal Quarters" program operated by the C&O Canal Trust. The building is furnished in the style of the early 1920s, with baseboard heating and a small stove. It has two levels, two bedrooms, and sleeps four. For more information on the Canal Quarters program, select this link.
Suggested Links
Contact Information
C&O Canal National Historical Park
142 W. Potomac St.
Williamsport MD 21795
301-739-4200
Website