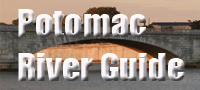 Shenandoah Falls Canal
West Virginia Historic Site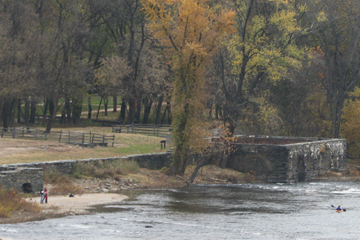 Between 1806-1807, the Patowmack Company excavated a 580-yard canal just above Virginius Island. Lift locks were erected at the lower end of this canal where the pulp mill ruins now stand. By deepening existing river channels above and below these locks,a waterway over a mile long was created.
Additional evidence of the Patowmack Company canals can be found along the Potomac at the Little Falls Skirting Canal, in the District of Columbia; the Patowmack Canal Lock at Great Falls, Va.; the Seneca Falls Canal near Seneca Lake;and House Falls above Harpers Ferry.
On Virginius Island in 1820, John H. Hall began assembling his patent rifles for the U.S. Government on Virginius Island. The site became known as Hall's Rifle Works, and the island on which it sat--separated from Virginius Island by a narrow channel of the Shenandoah--became known as Lower Hall Island. In 1844, the government began replacing Hall's frame shops with a new brick Rifle Factory that produced standard U.S. Model rifles until the Civil War. In 1861, Confederate troops disassembled the weapons machinery and shipped it south before burning the factory.
In 1848, a four-story "Brick Factory Building, of the most permanent character," began operation here. The building was fitted with gas lights, heated by steam pipes, and equipped with the latest cotton machinery--18 carding engines, three drawing frames, 18 spinning frames, and 97 power looms. The owners employed 70 workers in 1850, half of whom were women.
During the Civil War, the building served as a Union hospital, and after the war, the building was converted into a flour mill by the firm Child & McCreight, which installed the four Leffel turbines you still see today. By 1870, this mill was producing 80,000 barrels of flour a year. The building was abandoned after the Flood of 1889.
In 1849, a second four-story brick cotton mill was built by the owners of the adjacent Cotton Factory. Called "Valley Mills", a contemporary news-paper account reported that "this factory is capable of manufacturing 400 lbs. of Cotton yarn, 100 lbs. of Batting, and 50 lbs. of Candle wick per day." A fire destroyed the building in November 1852.
This immense structure is a newcomer to the area. Opened in 1888, the mill was outfitted with ten turbines, arranged in pairs, located in five of the mill's six flumes. These wheels powered a large circular saw, two disc barking machines, a splitter, six shaking screens, six wet press machines, and four wood grinders. Employing as many as 51 men, the mill produced about 40 tons of "Spruce Ground Wood Pulp" daily. The mill operated until 1935.
Suggested Links
Contact Information
Harpers Ferry National Historic Park

Harpers Ferry WV

Website