James Rumsey Monument
West Virginia Historic Site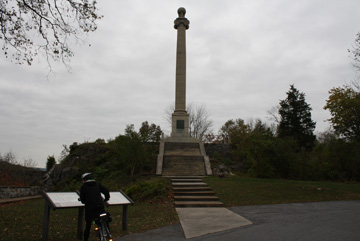 A granite column overlooking the river in Shepherdstown is dedicated to James Rumsey, the Potomac's own pioneer of steam navigation. Rumsey was born in Cecil County, Maryland in 1743, and moved to the town of Bath, Virginia (now Berkeley Springs, West Virginia) in 1782. He built an inn and general store as well as other buildings and mills. George Washington named him chief engineer of the fledgling Patowmack Navigation Company, an attempt to promote navigation in the upper Potomac and open the West. Rumsey helped design the locks of the Patowmack Canal at Great Falls.
In 1785, Rumsey moved his workshop to Shepherdstown and built a boat with an engine that was powered by steam. On December 3, 1787, Rumsey successfully demonstrated the boat against the current of the Potomac at Shepherdstown, 20 years before Robert Fulton's effort. In search of financing, Rumsey traveled to Philadelphia and England, where he built a 100-foot prototype of the steamboat. Unfortunately, he died suddenly after appearing before a London business group, and his competitor Robert Fulton—who demonstrated his boat on the Hudson River and got far more publicity—received credit for the first steamboat.
---
Add your comments below.
Contact Information
Town of Shepherdstown
German Street
Shepherdstown WV 25443
304-876-2312
Website