Williamsport
Maryland Town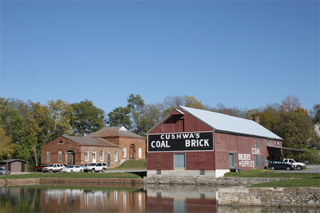 A C&O Canal Visitors Center is a major feature of this classic canal town. The town of Williamsport (canal mile 100) was originally planned in 1786 by General Otho Holland Williams. It became an important settlement during the French and Indian War, supplying British General Braddock's march in May 1755. Williamsport petitioned to be the nation's capital in 1790, but was rejected for the lack of navigable waters. It did have its moment of glory during the Revolutionary War, when it was the nation's capital for 28 hours.
Williamsport grew slowly during the early 1800s, suffering a major cholera epidemic around 1835. "Hospital Hill" is a cemetery for canal workers struck down by cholera. The Bollman Bridge (1879) was built by the famous Baltimore engineer, Wendell Bollman. Nearby, Cushwa's Warehouse highlights what was once one of the busiest wharf areas along the canal. The Norfolk and Western Railroad bridge was built in 1923 to carry a short section of railroad track over the canal. The bridge was completed only a year before the canal shut down commercial operations. Food, groceries, and snacks can be found in Williamsport all year. Riverside Park has picnic areas and camping, and a boat launching area just below the bridge across the Potomac.
---
Add your comments below.
Contact Information
Town of Williamsport
2 N. Conocheague St.
Williamsport MD 21795
301-223-7711
Website