D.C. Harbor Cruises
Tour Boat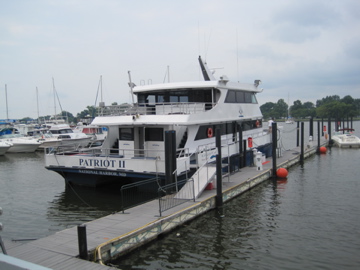 The "Patriot II" cruise ship is operated by DC Harbor Cruises out of the Gangplank Marina on the Washington waterfront. The boat does several tours of the DC waterfront, including a "Summertime Harbor Cruise" on Monday, Thursday, and weekends.Tickets are $18 for children, $30 per adult. Other cruises include a "Happy Hour on the Harbor" at 6 pm Thursdays through Sundays and a 90-minute "DC Harbor Lights" Crusie on selected Friday and Saturday evenings.
Yelp reviews for D.C. Harbor Cruises are shown below.
---
Add your comments below.
Contact Information

100 Potomac Ave. S.E.
Washington DC 20003
703-674-7824
Website