Low Water Bridge at Oldtown, MD
Potomac River Highway Bridge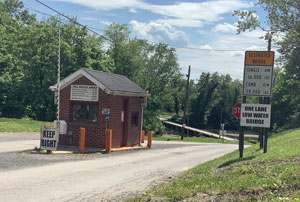 This is one of the few privately owned bridges in America. It was closed briefly for safety concerns in the early 1990s, but reopened. A toll of 50 cents is collected in each direction, on the Maryland side of the river. The bridge is decked in wood and does not have railings. It connects Green Spring Road in Allegany County with West Virginia Mineral County Route 1.
Nearby Potomac River Crossings

Upstream

Downstream
---
Add your comments below.
Contact Information
Oldtown Maryland State Highway Administration
1251 Vocke Road
LaVale MD 21502
301-729-8406
Website