U.S. 220 World War II Memorial Bridge at Keyser, WV
North Branch Potomac River Highway Bridge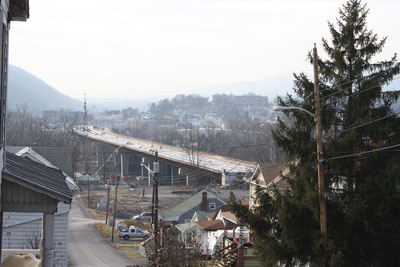 U.S. 220 crosses the Potomac in Keyser and connects many of the small towns of the North Branch Valley. The World War II Memorial Bridge was built in 1950. In early 2010, a $24 million contract was awarded by the West Virginia Department of Highways to build a new bridge to replace the aging structure. Construction of the new bridge began in the spring of 2010 and continue for approximately two years. The new bridge is being built on the downstream side of the Memorial Bridge.(Photo taken January 2012).
Nearby Potomac River Crossings

Upstream

Downstream
---
Add your comments below.
Contact Information
Keyser WV Maryland State Highway Administration
1251 Vocke Road
Keyser WV 21502
301-729-8402
Website