WV 46 Bridge at Westernport, MD
North Branch Potomac River Highway Bridge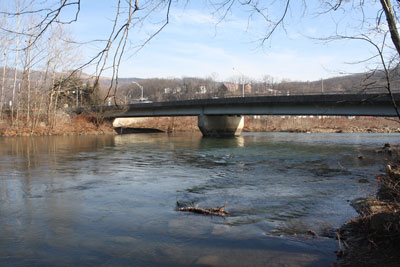 Maryland 135 follows the coal country of the North Branch valley and crosses the North Branch at Westernport, MD, becoming Ashfield Street in Piedmont, W.Va.
The town of Piedmont was the site of railroad facilities built in the 1840s and 1850s. In May 1864, Confederate soldiers burned some of the railroad shops, but Union forces arrived in time to keep them from burning the Bloomington viaduct a mile upsream.
Nearby Potomac River Crossings

Upstream

Downstream
---
Add your comments below.
Contact Information
Westernport Maryland State Highway Administration
1251 Vocke Road
LaVale MD 21502
301-729-8409
Website