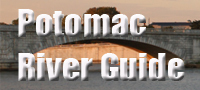 Potomac Riverwatch: Spring 2019
NEWS
New Virginia State Park:
The Virginia Department of Conservation and Recreation formally opened the newest Potomac River park, Widwewater State Park in Westmoreland County on Virginia's Northern Neck. The park has a visitor center, picnic shelters, playgrounds, restrooms, canoeand kayak launching area, and a hiking trail.
Details
New Potomac Research Boat --The Potomac Riverkeeper has launched a fancy new research vessel, the Sea Dog, a 42-foot Chesapeake Bay "deadrise" fishing boat. The Riverkeeper organization will be using the vessel to monitor water quality from six points along the river, and upload the results to a mobile app. More information.
EVENTS
March 20 through April 14 --Cherry Blossom Festival -- The two week festival focuses on the Tidal Basin and thousands of trees burst into bloom of pink and white. According to the National Park Service, the peak bloom will be in early April. Details
April 13--Annual "Trash Free Potomac" Cleanup--Now in its 30th year, the Alice Ferguson Foundation sponsors a watershed-wide cleanup of the Potomac and its Tributaries. Details.
Suggested Links