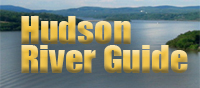 Search Hudson Sites
Also Explore
Beacon Station
Railroad Station

Beacon Station is a commuter rail stop on the Metro-North Railroad's Hudson Line, serving Beacon, New York. The station is heavily used by residents of Orange and Dutchess Counties who drive to the station. Rail service in Beacon can be traced as far back as December 6, 1849, with the Hudson River Railroad. The station was originally named "Fishkill Landing," and like many others on the Hudson Line, it is also right on the Hudson River.
The Hudson Line is a commuter rail line owned and operated by the Metro-North Railroad. It runs north from New York City along the east shore of the Hudson River, terminating at Poughkeepsie. The line has 20 stations departing from Grand Central and ending in Poughkeepsie.
Yelp reviews for this site are shown below.
Read Elethia M.'s review of MTA Metro-North Beacon Station on Yelp
Suggested Links
Contact Information
Metro-North Railroad
1 Ferry Plaza Drive
Beacon, NY 12508

Website