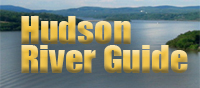 Search Hudson Sites
Also Explore
Tarrytown Station
Railroad Station

The Tarrytown station is a commuter rail stop on the Metro-North Railroad's Hudson Line, located in Tarrytown, New York. It is one of two express stations on that line south of Croton-Harmon, along with Ossining, that serve most trains, excluding peak hour trains to/from Poughkeepsie. The original station building was destroyed in a fire caused by a cigarette in April 1922. Plans for a new station were completed three years later in October 1925.
The Hudson Line is a commuter rail line owned and operated by the Metro-North Railroad. It runs north from New York City along the east shore of the Hudson River, terminating at Poughkeepsie. The line has 20 stations departing from Grand Central and ending in Poughkeepsie.
Yelp reviews for this site are shown below.
Read Simon B.'s review of Tarrytown Metro North Train Station on Yelp
Suggested Links
Contact Information
Metro-North Railroad
1 Depot Ave.
Tarrytown, NY 10591

Website