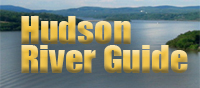 Search Hudson Sites
Also Explore
Yonkers Station
Railroad Station

Yonkers station is a Metro-North Railroad and Amtrak railroad station located in Yonkers, New York. The current station building was built in 1911 for the New York Central & Hudson River Railroad (NYC) in the Beaux-Arts style. The architects were Warren and Wetmore, one of the firms responsible for Grand Central Terminal. It was meant to be a smaller version of Grand Central. The station serves Metro-North commuter trains on the Hudson Line. It is one of four express stations on the line south of Croton?Harmon, but most Metro North express trains do not stop here.
The station is a hub for suburban commuter and intercity services, and it offers easy access to New York City and the surrounding areas. The architecture of the station is impressive, and the restoration efforts have done an semi-decent job of maintaining the historic charm of the building.
The Hudson Line is a commuter rail line owned and operated by the Metro-North Railroad. It runs north from New York City along the east shore of the Hudson River, terminating at Poughkeepsie. The line has 20 stations departing from Grand Central and ending in Poughkeepsie.
Yelp reviews for this site are shown below.
Read Rob B.'s review of Yonkers Metro North on Yelp
Suggested Links
Contact Information
Metro-North Railroad
5 Buena Vista Ave.
Yonkers, NY 10583

Website