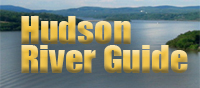 Search Hudson Sites
Also Explore
Poughkeepsie Train Station
Train Station

Poughkeepsie station is a Metro-North Railroad and Amtrak stop serving the city of Poughkeepsie, New York. The station is the northern terminus of Metro-North's Hudson Line, and an intermediate stop for Amtrak's several Empire Corridor trains. Built in 1918, the main station building is meant to be a much smaller version of Grand Central Terminal. It was a source of civic pride when it opened. In 1976 it was added to the National Register of Historic Places as Poughkeepsie Railroad Station; it and Philipse Manor are the only Hudson Line stations outside Manhattan to be so recognized.
The first Poughkeepsie station was built in 1850 as what became the New York Central Railroad's Water Level Route worked its way up the Hudson River. The current four-story red-brick Poughkeepsie station was designed by the firm Warren & Wetmore (the architects of the original Grand Central Terminal in New York City) for the New York Central Railroad. The city's third station, it was proposed in 1913 and completed in 1918.
The Hudson Line is a commuter rail line owned and operated by the Metro-North Railroad. It runs north from New York City along the east shore of the Hudson River, terminating at Poughkeepsie. The line has 20 stations departing from Grand Central and ending in Poughkeepsie.
Yelp reviews for this site are shown below.
Read Melissa P.'s review of Poughkeepsie on Yelp
Suggested Links
Contact Information
Amtrak

Metropolitan Transit Authority, NY 12601

Website