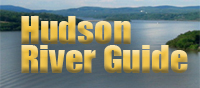 Dunn Memorial Bridge
Hudson River Bridge

The Dunn Memorial Bridge is a highway bridge that carries US 9 and US 20 across the Hudson River between Albany, New York and Rensselaer, New York. It was completed in 1967 to replace an earlier span bearing the same name. The bridge has a steel girder design and is officially known as the Private Parker F. Dunn Memorial Bridge. The bridge carries approximately 36,000 vehicles per day over the Hudson River between the cities of Albany and Rensselaer. The bridge underwent a major rehabilitation between 2011 and 2013 which included construction of new pavement, replacement of bearings and joints, and steel and concrete repairs.
While traveling eastbound on the Dunn Memorial Bridge towards the City of Rensselaer, there is a noticeable stub where the road ends and traffic is "forced off" the bridge onto offramps for US Routes 9 and 20. The road was originally supposed to continue on as part of the canceled South Mall Expressway to Interstate 90 at present day Exit 8.
Rensselaer's Riverfront Park is located under the eastern end of the bridge. Peregrine falcons have been observed nesting under the roadway since 1998, and the New York State Department of Environmental Conservation set up a webcam to monitor them.
Suggested Links
Contact Information


Rensselear, NY 12144

Website