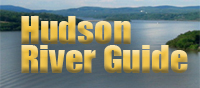 Search Hudson Sites
Also Explore
Albany
River Town

Albany is a city in New York State and is the capital of New York. Albany is on the west bank of the Hudson River, about 10 miles south of its confluence with the Mohawk River, and about 135 miles north of New York City. Some of Albany's popular attractions include Empire State Plaza, Cathedral of the Immaculate Conception, New York State Capitol, Schuyler Mansion, Albany Institute of History & Art, First Church in Albany, Cathedral of All Saints and New York State Museum.
The Hudson River is a key piece of Albany County's landscape. It is home to miles and miles of shoreline, providing an especially exciting and imposing challenge to bass anglers used to smaller lakes and waterways. Albany is a preferred freshwater bass fishing spot for local anglers, especially from June through November.
Yelp reviews for this site are shown below.
Read Kara M.'s review of The City of Albany on Yelp
Suggested Links
Contact Information
City of Albany
24 Eagle Street
Albany, NY 12207

Website