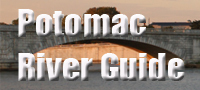 Dargan Bend Boat Ramp
River Access Point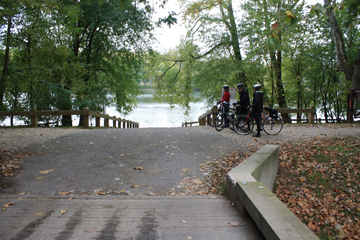 The Dargan Bend boat ramp has Potomac River access for small boats at the C&O Canal upstream of Harpers Ferry. There are 25 parking spaces. The ramp is located off Shinham Road. From Route 340 Exit #1 (Keep Tryst Road), follow Harpers Ferry Road past Pleasantville Road. The next road before the Manidokan Camp and Retreat Center is Back Road, which may be unmarked. It leads down to the boat ramp.
The area around Dargan Bend includes some interesting structures that have been somewhat overrun with vegetation. About 3/10 of a mile upstream is an abandoned limestone kiln. The area around the canal is rich in limestone and other minerals.
In the 19th Century, farmers in this part of Maryland used kilns to heat limestone and transform it into a something that could be used to improve soils. Lime was also used in iron furnaces to remove impurities from ore and in making hydraulic cement that was used in canal structures. The lime kilns above Dargan Bend were operated by O. J. Shinham until approximately 1950. They used limestone quarried nearby.
Suggested Links
Contact Information
C&O Canal National Historical Park
142 W. Potomac St., Suite 100
Williamsport MD 21795
301-739-4200
Website