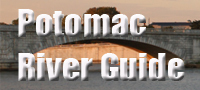 Catoctin Aqueduct
Canal Aqueduct
At canal mile 51.3, the Catoctin Aqueduct carries the canal across Maryland's Catoctin Creek. The site is where both the canal and the B&O Railroad competed to cross a major tributary of the Potomac River. The aqueduct was built in 1832 with three stone arches. The center arch was designed as an elliptical arch, which was not as strong as a semicircular arch. It began sagging in the early 1900s and fell into disrepair when the the canal went bankrupt in 1924. The center arch and other parts of the aqueduct collapsed into the creek in 1973. The National Park Service installed a temporary bridge to carry towpath users over the creek. The temporary bridge lasted more than 30 years.
Citizens of Frederick County began a fundraising effort to help restore the aqueduct. A number of historic and tourism organizations participated, including many individuals who gave to the "Adopt a Stone" project.
In 2010, the restoration of the aqueduct got a major boost, with the awarding of $3.6 million in combined federal and state fuding, including frunds from the American Recovery and Reinvestment Act (ARRA). The project restored the two missing stone arches and bring the structure back to its original shape--with some structural improvements to strengthen the center arch.
In October 2011, after a long campaign, the restoration of the aqueduct was completed. Interpretive signs around the site describe the long and painstaking process of restoration.
Access to the Catoctin Aqueduct is from the Lander area. The aqueduct is approximately .5 miles upstream from the parking area near the Lander Lockhouse (Lock 29).
Below is a photo of the "temporary" bridge that carried the canal over Catoctin Creek for more than 30 years until the restoration. The photo was taken in 2009 at the same location as the photo above.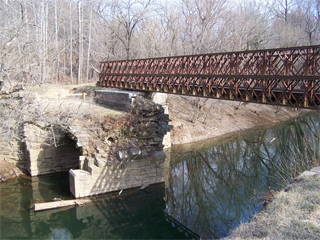 Suggested Links
Contact Information
National Park Service
142 W. Potomac St.
Williamsport MD 21795
301-739-4200
Website