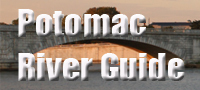 WSSC Potomac River Filtration Plant
Regional Water Treatment Plant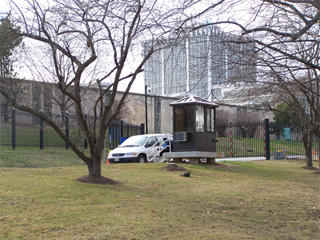 The Washington Suburban Sanitary Commission's filtration plant withdraws and treats up to 400 million gallons of water each day from the Potomac River. The intake structure, on the canal above Swain's Lock, was built in 1982. It has a large overlook on the river and a series of descriptive plaques describing the Potomac River Basin and its water resources.
The first part of this plant was built by WSSC in 1961, designed to treat 30 million gallons per day. In 1966, it was enlarged to 90 million gallons per day, and again in 1971 to 240 million gallons per day. The current structure was designed to blend with the canal and riverside. A large project to expand the capacity of the plant is currently underway.
A bridge over the canal allows vehicles to service the intake structure and pumps, which send river water to the treatment building high on the riverside. Water treated here is distributed to customers in Montgomery and Prince George's counties in Maryland.
Suggested Links
Contact Information
Washington Suburban Sanitary Commission
14501 Sweitzer Lane
Laurel MD 20901
301-206-9772
Website