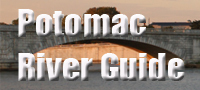 Washington Canoe Club
Historic Site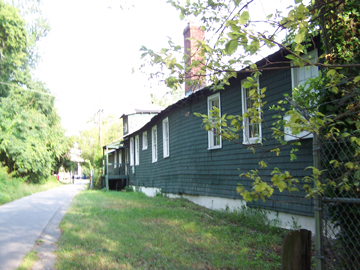 Founded in 1904, the Washington Canoe Club is one of the oldest boating clubs in the U.S.
In 1904, when Theodore Roosevelt was president, a group of canoe enthusiasts from the nearby Potomac Boat Club gathered at the edge of the Potomac, not far from where the northern end of Key Bridge is today, and began to build an extraordinary structure. The architect was Georges P. Hales, and the Washington Canoe Club was clearly conceived by people who knew not only how it would look from the Potomac - striking- but knew how the building needed to work for its purpose-which it does, superbly. When the club was established, there was a limit of 100 members, and money was raised to construct the building by benefit performances and dances. The Washington Post held a contest to raise subscriptions; the $1000 first prize was won by the club and used for the building fund. Tradition holds that the clubhouse was built by the members, using salvaged timbers and lumber from burned barns. It is an excellent example of shingle-style architecture. Despite numerous floods and ice Jams, the building has retained its integrity. In the 1950's ice floes pushed the building five feet downstream, but the structure was Jacked up and returned to its original location.
The Washington Canoe Club incorporates the complex massing and continuity of surface that characterize shinglestyle architecture. The river facade displays a handsome five-part building anchored at either end by octagonal towers and surmounted by a hipped roof. The diamond composition of the central projecting pavilion is particularly sophisticated. The sweeping horizontality of the building is enhanced by the contrast between the white framing of the doors and windows and the dark green of the building.
he Washington Canoe Club is significant for its role in the development of flatwater canoe racing in Olympic competition. The club, competing for the United States, and introducing the sport as a demonstration event at the 1924 Olympics in Paris, won three of the six events raced. The team was made up of Charles Havens, Karl Knight, Harry Knight, and Hank Larcombe. Because only six countries had teams, flatwater racing did not become an Olympic sport until 1936.
The club has produced numerous national champions and Olympic medal winners. Frank Havens' 1948 Silver and 1952 Gold medals, the Silver medal won by Francine Fox and Gloriane Perrier in 1964, and Norman Bellingham's gold medal in the 1988 Olympic Games were highlights for the club.
The club is presently designated a "Center of Excellence" by the United States Canoe and Kayak Team (US CKT), the national governing body for the sport of Olympic flatwater racing, and Olympians and Olympic hopefuls train at the club.
Suggested Links
Contact Information
Washington Canoe Club
3700 Water Street N.W.
Washington DC 20007
(202) 333-9749
Website