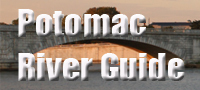 Georgetown
Washington Historic Site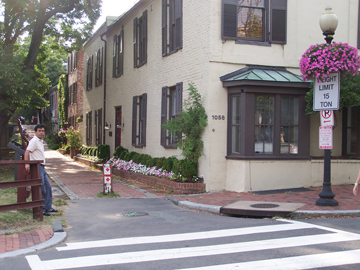 The Chesapeake & Ohio Canal begins--or ends, depending on how you look at it--in Georgetown. Georgetown is the southern terminus of the canal, where boats loaded with coal and other products of the west ended their journeys. Georgetown still has many sites of its earlier history, when canal boatmen and rivermen lived in hovels near the river. Today, canal boatmen's homes have become restored townhouses.
Georgetown originally was a part of Frederick County, Maryland. In 1781, it was surveyed as part of the county survey. The town was the largest tobacco port in the United States by the end of the 18th century. A large public wharf at the foot of Wisconsin Avenue extended into the Potomac at low tide.
Development in Georgetown during the canal era included the growth of large flour mills and other "grocery" industries. A major change in the town occurred in 1874, when it was given by Maryland to the District of Columbia. Many of the colorful street names were changed. For example, Wapping Street and River St., became Wisconsin Avenue and M Streets.
Yelp reviews of the C&O Canal in Georgetown are shown below. Read Ann C.'s review of C&O Canal on Yelp
Suggested Links
Contact Information
Georgetown Business Improvement District
1055 Thomas Jefferson St. N.W.
Washington DC 20007
202-298-9222
Website