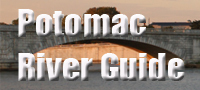 Rock Creek
Maryland/Washington Tributary

Rock Creek is a 36-mile tributary of the Potomac that starts in upper Montgomery County, Maryland, and flows south to the boundary of Maryland and D.C. The creek rises from a culvert under Dorsey Road at the north edge of Laytonsville Golf Course in Montgomery County, Maryland. A dam forms a small lake near its source. After exiting the golf course, Rock Creek flows between residential developments until it meets Agricultural History Farm Park, where the Upper Rock Creek Trail starts. It flows underneath the Intercounty Connector, which crosses it on a large arch bridge visible from the trail.
It then flows into Lake Needwood at Rock Creek Regional Park in Maryland's Derwood-Rockville area. South of the Lake Needwood Dam, Rock Creek flows in a deep gorge and is paralleled by the main Rock Creek Trail, and is joined by the North Branch Rock Creek. It exits the gorge near the Twinbrook neighborhood of Rockville and the Parklawn Memorial Cemetery.
At North Kensington, Beach Drive begins to parallel the creek. The creek eventually crosses the Capital Beltway and later reaches the Washington, D.C., border.
The creek flows for about 9 miles (14 km) through Rock Creek Park in Washington, where it is fed by several small creeks (Piney Branch, Pinehurst Branch, Broad Branch, Soapstone Branch, and Luzon Branch) and numerous storm sewers.
The Chesapeake and Ohio Canal joins Rock Creek in Georgetown; the creek's mouth is the canal's eastern terminus. Just below this confluence, the Canal Company in 1831 completed a connection from the canal through Rock Creek and on to the Potomac River. This area, which the company dubbed "Rock Creek Basin", silted up and was dredged several times for the Canal's use. The creek (and the canal) empty into the Potomac River at the Tidewater Lock near the Watergate complex.
In 2005, concern about growing levels of trash and pollution in Rock Creek led to the creation of a volunteer citizens group to focus on overcoming threats to Rock Creek. The Friends of Rock Creek?s Environment (FORCE) organized a variety of cleanup activities and watershed improvement projects. In 2011, the organization changed its name to Rock Creek Conservancy to better reflect the full scope of people-powered restoration its programs entails. In 2017, the Conservancy became a formal friends group (philanthropic partner) to Rock Creek Park of the National Park Service.
Suggested Links
Contact Information
Rock Creek Conservancy
isconsin Ave.
Bethesda MD 20814
301-579-3105
Website