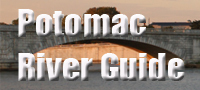 Washington Navy Yard
U.S. Navy Site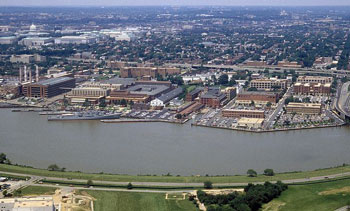 Established during the administration of John Quincy Adams, the Washington Navy Yard has a colorful 200-year history along the banks of the Anacostia River. Its first big project was to build ships in a potential conflict with France in 1798. In 1814, the Commandant of the yeard ordered it destroyed rather than turn it over to the British. Quickly rebuilt, the yard developed technical abilities under the leadership of Lieutenant John Dahlgren (who had the Dahlgren Naval Weapons Center named for him on the lower Potomac.
The Navy Yard was active during the Civil War, and again in the 1890s as the U.S. pursued gunboat diplomacy. It was greatly enlarged during World War I and World War II, then gradually shut down operations until the 1960s, when it was again revived to perform administrative functinos.
Many of the old buildings at the Navy Yard have been restored and the environmental hazards created during centuries of industrial activity have been cleaned up. The site now includes a museum, heaquarters complex, and residential facilities for marines and naval officers. It is part of the revival of the southeast waterfront section of Washington, with its own Metro stop and retail locations.
The museum is open 9 am to 5 pm, Monday through Friday, and on weekends from 10 am to 5 pm.
Yelp reviews of the Navy Yard Museum are shown below. Read Keiko M.'s review of National Museum of the United States Navy on Yelp
Suggested Links
Contact Information
U.S. Navy
9th & M Streets SW
Washington DC 20374
202-433-4882
Website