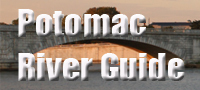 National Colonial Farm
Maryland Historic Site

This "living history" farm has been developed by the Accokeek Foundation in cooperation with the National Park Service to depict life on a middle class Southern Maryland tobacco farm in the mid-18th century. The farm includes an herb garden, authentic field crops, an out-kitchen where meals are cooked on the weekends, a tobacco barn, a "necessary" (privy), smoke house, and barnyard area with appropriate breed animals for the colonial period.
Each summer, farm employees grow authentic strains of tobacco, corn, and wheat, demonstrating farming methods used in colonial times. The chestnut grove, containing more than 600 trees, is an attempt to produce a chestnut tree resistant to blight. The farm is located on the shore of the Potomac River directly across from Mount Vernon. A fishing pier and picnic grove are located outside the farm entrance.
The Accokeek Foundation, a local nonprofit group, has been conducting research projects at the National Colonial Farm since 1958. These projects explore agricultural history, restoration of the American Chestnut tree, heirloom plant varieties, land preservation techniques, and native flora, which assist the programs at the Colonial Farm.
The Colonial Farm has a small dock attached to a fishing pier near the visitor center. There is also a dock near the Riverview Trail for larger boats, but only for landing. There is no ramp attached to the dock.
Suggested Links
Contact Information
National Park Service
3400 Bryans Point Road
Accokeek MD 20607

Website