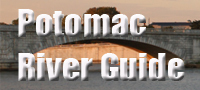 Jones Point Park
Virginia Historic Site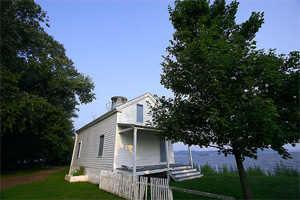 The southern tip of Alexandria juts out into the Potomac River at Jones Point, now barely visible immediately upstream of the enormous Woodrow Wilson Bridge across the river. The point was named after a fur trader, Cadwalader Jones, who built a cabin here in 1692. At this site, George Washington set the initial cornerstone to mark the boundary of the District of Columbia, on April 15, 1791. The stone is still visible at Jones Point, now a city park in Alexandria.
The Jones Point Lighthouse was first put up in 1856, with a white light 17 feet above the water, visible for 9 miles. In 1900, it was changed to a red oil lamp; in 1926, a fixed green light was put on a steel tower near the lighthouse. In 1962, the Woodrow Wilson Bridge opened, with navigation lights that replaced the Jones Point light. The exterior of the lighthouse has been restored by the National Park Service and the Mt. Vernon Chapter of the Daughters of the American Revolution. The park is popular for fishing, picnicking, and concerts. A parking area and picnic tables are available.
Jones Point Park is part of the "Find Your Chesapeake" project of the National Park Service and the Chesapeake Conservancy. Click here for details.
Photo by Trent Roche.
Yelp reviews for Jones Point Park are shown below. Read Keisha L.'s review of Jones Point Park on Yelp
Suggested Links
Contact Information
National Park Service
Turkey Run Park
McLean VA 22101
703-289-2500
Website