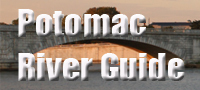 Huntley Meadows Park
Fairfax County Park

This 1425-acre park, operated by the Fairfax County Park Authority, is located where the Potomac once flowed. The river changed course, but the river bottom is still here--and provides a fascinating area to explore from the park's 4 miles of trails.
The land was part of the colonial plantation holdings of George Mason; then it was divided up into family farms. Federal agencies owned the land from the 1940s through the 1960s. The park remains as one of the few large wetlands in Fairfax County.
The park is well known for its bird life, including king rail, barred owl, red-headed woodpecker, and wood duck. Muskrat, beaver, and otter make the wetland home, as well as ten species of frogs whose calls fill spring evenings with sound. A boardwalk winds one-half mile through emergent shrub and forested wetland. Diverse habitats at Huntley Meadows Park make it an ideal place for wildlife observation.
Park facilities include a visitor center with exhibits and auditorium; a .6-mile boardwalk wetland trail; a wildlife observation tower; and a 3-mile interpretive trail system. The naturalist staff offers a variety of programs throughout the year. The park is open dawn to dark daily.
Huntley Meadows Park is part of the "Find Your Chesapeake" project of the National Park Service and the Chesapeake Conservancy. Click here for details.
Read Mike R.'s review of Huntley Meadows Park on Yelp
Suggested Links
Contact Information
Fairfax County Park Authority
3701 Lockheed Blvd.
Alexandria VA 22314
703-768-2525
Website