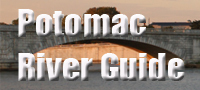 Mount Vernon
Virginia Historic Site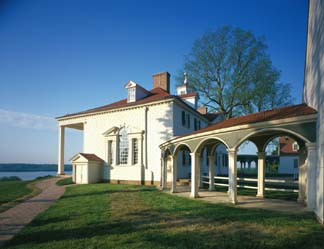 Washington's beloved home was built on a bluff high above the Potomac. His mansion and tomb are visited by nearly a million Americans and visitors from abroad each year. Named for Admiral Vernon, a British admiral under whom George Washington's half brother served, the estate was first established in 1674. The original tract included land on the Potomac from Dogue Creek to Little Hunting Creek (now the southern boundary of Alexandria). It passed through several generations, and became George Washington's permanent home in 1754. By the 1780s, Washington, a shrewd land speculator, expanded the holdings to more than 8,000 acres and divided the land into five farms.
Washington took a scientific approach to farming. He consulted with scientists, farmers, and philosophers; kept detailed records; and became one of the most enlightened plantation owners in the United States. He recognized the early problems of the Potomac's sedimentation and experimented with reclaiming stream valleys for fertilizing his fields. Today the "George Washington: Pioneer Farmer" exhibit area offers visitors a four-acre glimpse into Washington's innovative farming techniques. .
Mount Vernon is part of the "Find Your Chesapeake" project of the National Park Service and the Chesapeake Conservancy. Click here for details.
Photo of Mount Vernon overlooking the Potomac from Mount Vernon Ladies' Association
Yelp reviews of Mount Vernon are shown below. Read Mateo M.'s review of George Washington's Mount Vernon on Yelp
Suggested Links
Contact Information
Mount Vernon Ladies Association of the Union
3200 Mount Vernon Memorial Highway
Mount Vernon VA 22121
703-780-2000
Website