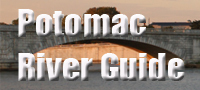 George Washington's Distillery and Grist Mill
Virginia Historical State Park

George Washington's half-brother, Lawrence, was the original owner of Mount Vernon. After Lawrence died, he left it to his widow, who leased it to George. When Lawrence's widow died in 1761, he inherited the original land (2,126 acres), which he eventually expanded to more than 8,000 acres.
As part of the original property, a grist mill was included. Its exact location was not known, but evidence is that it was on Dogue Run, close to the present reconstruction.
Washington built a new mill on the site, using new machinery and harnessing water from Dogue Run and a tributary, Piney Branch Run.
George Washington's grist mill worked on Dogue Run, milling wheat and corn into flour and meal. Washington operated the mill throughout his adult life, including his eight years as President. The mill was neglected after Washington's death, but during the 1930s, it was rebuilt using machinery from another mill of the same period. The construction is on the original foundation of Washington's mill. Exhibits at the mill use replicas of the machinery to show how the mill worked. The Grist Mill is open between Memorial Day and Labor Day. A fee is charged for admission to the mill.
Yelp reviews of George Washington's Distillery & Gristmill are shown below. Read Anton K.'s review of George Washington's Distillery & Gristmill on Yelp
Suggested Links
Contact Information
George Washington's Distillery and Grist Mill
5514 Mount Vernon Memorial Highway
Alexandria VA 22309

Website