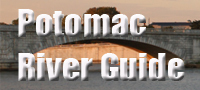 Caledon State Park
Virginia State Park

A large area (2,579 acres) along the Potomac shoreline in King George County is preserved as a state park and serves as the home for one of the largest concentrations of summering bald eagles on the east coast. Hiking trails are available, along with a visitor's center, picnic area, and restrooms. To protect the privacy of eagle nests, however, access to forests and marshes along the Potomac shoreline is limited.
Eagles are found in many places along the lower Potomac, but congregate in Caledon. The area offers 90-minute guided tours at 10 a.m. and 2 p.m. Thursdays through Sundays, with bus rides to the popular eagle sites. Reservations are recommended. Eagle tours are $4 for adults, free for children under age 6. Groups of 10 to 15 can get the tours for $2 each. Park officials suggest wearing light clothing for walking and also bringing sunglasses, sunscreen, insect repellent and something to drink.
Caledon Natural Area is part of the "Find Your Chesapeake" project of the National Park Service and the Chesapeake Conservancy. Click here for details.
Yelp reviews of the Caledon State Park are shown below. Read Sarah K.'s review of Caledon State Park on Yelp
Suggested Links
Contact Information
Virginia Department of Conservation & Recreation
11617 Caledon Road
King George VA 22485
540-663-3861
Website