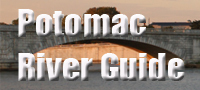 Zekiah Swamp
Maryland Tributary

The swamp at the headwaters of the Wicomico River is famous for its insect population, which has yielded several unique species to the Smithsonian Institution. The headwaters of the swamp are located in the Cedarville State Forest, part of the public land system of the Maryland Department of Natural Resources. Cedarville has a Swamp Trail along the headwaters of the Zekiah Swamp. Large sections of the swamp are privately owned, however, and are not open to the public. A good canoe trip can be made from at Allens Fresh downstream to the Potomac River.
Zekiah Swamp averages a half-mile in width. It is one of the largest freshwater swamps in Maryland. The bottomland woods that mark the swamp were used for logging in the past. The area is popular for a great variety of birds. However, the main part of the swamp is privately owned and can be viewed only where major roads (Md. Routes 5 and 6) cross the swamp.
At Allens Fresh, the two streams of the swamp come together and create a much wider channel. Below the bridge at Allens Fresh, the freshwater swamp merges with the salty waters of the Lower Potomac. Both freshwater plants and saltwater plants thrive in the environment. The bays and inlets of the lower Wicomico River provide a home for many kinds of waterfowl and vegetation.
Cedarville State Park is part of the Find Your Chesapeake project. For more information Select this link
Suggested Links
Contact Information
Maryland Dept. of Natural Resources
10201 Bee Oak Road
Brandywine MD 20613
301-888-1410
Website