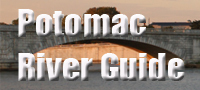 Conococheague Creek Aqueduct
Canal Aqueduct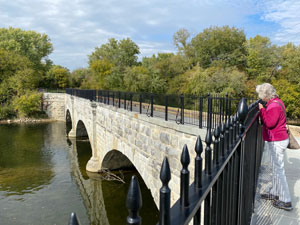 For the first time since 1924, the historic Conococheague Aqueduct is fully operational, allowing a canal boat to pass over Conococheague Creek. Williamsport is now the only place in North America where visitors can view a variety of canal features in one place, including an operational lift lock and refurbished lockhouse, a railroad lift bridge, a canal turning basin and warehouse, and now a watered aqueduct.
The Conococheague Aqueduct, second largest of the eleven aqueducts on the 184.5 miles of the C&O Canal, is listed on the National Register of Historic Places. Nearly 97 years ago, in April of 1920, the upstream wall of the Conococheague Creek Aqueduct gave way, crumbling into the creek below. The C&O Canal Company temporarily repaired the aqueduct with a wooden wall, but the canal only operated for three more seasons before being abandoned in the spring of 1924.
The restored Conococheague Aqueduct provides a watered section of the canal to allow for canal boat operations and other public uses between Lock 44 and approximately 450 feet upstream of the existing aqueduct (approx. 0.70 miles). The $10.2 million project took two years to complete, and was funded through federal, state, local and private dollars including national park entrance fees and Maryland's Transportation Alternatives and Bikeways programs.
Suggested Links
Contact Information
C&O Canal National Historic Park
142 W. Potomac St.
Williamsport MD 21795
301-739-4200
Website