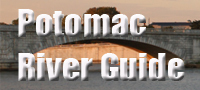 Dam No. 3
Canoe/Kayak Access Point

Dam No. 3 is a rubble dam that was built immediately above "The Needles," a whitewater area of the Potomac above Harpers Ferry. The dam creates a large slackwater area that extends north to near Antietam Creek.
The dam was originally known as the Armory Potomac Dam, first built to supply water for Harpers Ferry Armory. The dam also supplied water for the Patowmack Company's canal at House Falls, and later the C&O Canal obtained permission to take water from behind the dam to supply the canal from this point all the way downstream to Seneca, more than 40 miles. At Dargan Bend (canal mile 69), a picnic area and boat launching site are available.
Access to the Potomac above Harpers Ferry is from Valley Road (Md. 180) east off U.S. 340 in Maryland. Turn right on Sandy Hook Road, then follow back under U.S. 340 and west to Harpers Ferry Road 2.5 miles to Dargan Road. Follow Dargan Road approximately 1 mile to the boat launching area.
Suggested Links
Contact Information
National Park Service

MD

Website