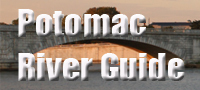 Blockhouse Point Park
Local Park

The Blockhouse Point is a 630-acre park with extensive hiking and historical areas along the Potomac. The park has access from two parking areas on River Road. The trails, which date to the Civil War area, feature expansive views of the Potomac River. Blockhouse Point gets its name from one of the blockhouses associated with Civil War-era camps along Muddy Branch. The site is one of the few undisturbed Civil War camps in the Washington area. C&O Canal park archaeologists have studied the area and are continuing to research the area. Field research has revealed several sites where civil war outposts were located.
The most significant event at Blockhouse Point was the result of Confederate General Jubal Early's attack on Washington, D.C. in July of 1864. The Muddy Branch troops left the area a day or so before Early's attack to aid in the defenses of Washington. With Early's forces on the doorstep of the nation's capital, Mosby burned three abandoned blockhouses and camps along the Potomac, including the blockhouse at Blockhouse Point. The blockhouse was not rebuilt.
Montgomery Parks has developed a trail guide for the area available at this link.
The trails mark a network of routes used to furnish material and supplies to the soldiers stationed there. The trails have been in use for more than 140 years.
Yelp reviews for Blockhouse Point Park are shown below. Read Sally B.'s review of Blockhouse Point Park on Yelp
Suggested Links
Contact Information
Blockhouse Point Park
14750 River Road
Darnestown MD 20854

Website