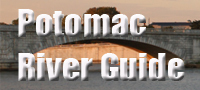 Woodrow Wilson Bridge
Potomac River Highway Bridge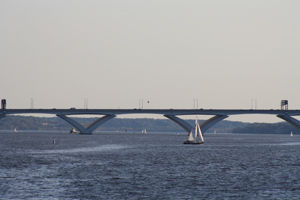 Part of the 66-mile interstate highway that circles the Washington area, known as the Beltway, this is the most heavily traveled Potomac River crossing. The bridge runs high across the Potomac from Maryland, touching briefly the southernmost tip of the District of Columbia, and entering Virginia at the historic Jones Point Lighthouse in Alexandria. The bridge is 5897 feet long, more than 90 feet wide, with an elevated control tower that operates a draw span. The drawbridge is opened for ship traffic on demand, except during rush hours. Completed in 1961, this was the first bridge built on this site. A complete renovation of the bridge was required in 1982-83, expanding the width of the roadway to allow for disabled vehicles. The renovation was completed in late 1983. By the early 1990s, however, deterioration and continued pounding of the bridge (more than 175,000 vehicles daily) led to a number of proposals, from a tunnel under the Potomac to a complete replacement of the bridge.
The design of the "new" Woodrow Wilson Bridge, unveiled in 1998 after years of controversy, involved 12 lanes of traffic and was considerably more aesthetically pleasing than the old bridge. It spans the river in approximately the same location, but touches the ground in fewer places--18 versus 57 for the existing bridge. Two spans of six lanes each carry Beltway traffic across the river.
The design for the new bridge is a series of arches and triangles. The bridge is 70 feet at its highest point above the river, incorporating a drawbridge.
The "outer loop" span of the bridge was open for traffic in 2006. The second span opened in May 2008. An extensive network of approach roads was rebuilt on both the Maryland and Virginia sides of the bridge to accommodate the new spans.
Nearby Potomac River Crossings

Upstream

Downstream
Yelp reviews of the Woodrow Wilson Memorial Bridge are shown below. Read Bruce K.'s review of Woodrow Wilson Memorial Bridge on Yelp
Suggested Links
Contact Information
Woodrow Wilson Project Office
2901 Eisenhower Ave.
Alexandria VA 22314
703-329-0300
Website