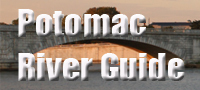 Bollman Abutments at Harpers Ferry, WV
Potomac River Railroad Bridge Site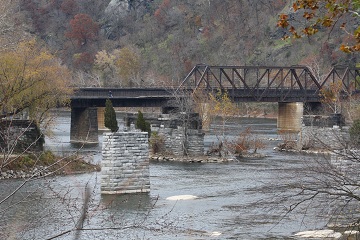 The ruins of bridges across the Potomac include the piers from a Bollman truss bridge that was destroyed in the famous flood of 1936. The Bollman Truss bridge was constructed in 1868, began operation in 1870, but rail traffic was shifted to a new replacement bridge in 1894. The railroad bridge was paved as a highway bridge, but finally swept away in the 1936 flood.
This site is one of the most famous along all of the Potomac River. On October 16, 1859, John Brown led his men across the bridge at this site to begin his attack on the Harpers Ferry Armory. Two years later, Confederate troops blew up the bridge on June 14, 1861. The bridge was rebuilt and replaced nine times during the Civil War.
Early bridges at this site date back to 1824 and include designs by Benjamin Latrobe. The original Harpers Ferry operated from 1747 at the site.
Nearby Potomac River Crossings

Upstream

Downstream
Suggested Links
Contact Information
National Park Service

MD

Website