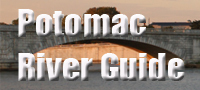 St. Marys County
Maryland County

St. Mary's County is steeped in history, with the Potomac an integral part of its heritage. In 1634, the Ark and the Dove sailed up the Potomac River to land at St. Clement's Island and eventually settled at St. Mary's City just "downstream." At both locations, museums now depict the journey and struggle of these colonists. St. Clement's Island-Potomac River Museum (located on the mainland) offers educational displays, boat rides to the island, and various special events. Historic St. Mary's City is a living history museum with costumed interpreters and replicas of the square-rigged Dove and the original State House when St. Mary's City served as Maryland's First Capital.
As the region developed, the Potomac served as a major waterway to transport goods. Several lighthouses were built along its shores and two of them still operate in St. Mary's County. Today, the Piney Point Lighthouse Museum and Park offers exhibits detailing the history of the Piney Point Lighthouse, also known as the "Lighthouse of Presidents." In addition, the museum hosts an exhibit of Maryland's first Historic Shipwreck Diving Preserve, the U-1105 Black Panther, which was scuttled just offshore in the Potomac River. The Point Lookout Lighthouse now serves as a U.S. Coast Guard Station within Point Lookout State Park, It is open for public tours once a year during Halloween. Ghost stories complement this unique tour opportunity.
St. Mary's County is home to several other historic sites (such as Sotterley Plantation) and has strong ties to the U.S. Navy through the Patuxent River Naval Air Station located in Lexington Park. St. Mary's County is bounded on three sides by water--to the north by the Patuxent River, the south by the Potomac, and to the east by the Chesapeake Bay.
Each October, the county hosts the St. Mary's County Oyster Festival" at the county fairgrounds, featuring the National Oyster Shucking Contest and the National Oyster Cook-Off.
Yelp reviews for St. Mary's County Oyster Festival" are shown below. Read Kristen O.'s review of St. Marys County Oyster Festival on Yelp
Suggested Links
Contact Information
St. Mary's County
Division of Tourism
Leonardtown MD 20650

Website