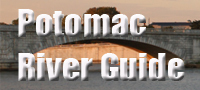 Point Lookout
Maryland State Park

The Point of the Potomac (known locally as Point LookOUT, is considered an outstanding area for bird watching. Waterfowl frequent the park from fall to spring. Canada geese and diving ducks spend their winters here. Bald eagles sometimes cruise by from their nests in nearby Ridge, Md.
Point Lookout, as the southernmost point of the Potomac in Maryland, offers a spectacular view of the Potomac River as it mixes with the waters of the Chesapeake Bay. But the currents can be treacherous. The park road goes all the way down to the point, which eventually turns into a sliver of sand that curves out into the Chesapeake. A 700-foot Point Lookout Fishing Pier extends into the waters of the Bay, making pier fishing easy, although a Maryland saltwater sport fishing license is required. The park is also a good place to try crabbing. The camp store sells crab nets, string, and chicken for bait. No license is required for recreational crabbing. The guarded swimming area is often crowded on summer weekends. The park offers a bath house, grills, picnic tables, and playground equipment. Boat launching, boat rentals, hiking trails, and campsites are also available. Annual events include an Easter Sunrise Service and Halloween programs in October.
Point Lookout is a site on the Southern Maryland Religious Freedom Byway, a route of historic sites dealing with the establishment of religious freedom in the U.S.
Point Lookout State Park is also part of the "Find Your Chesapeake" project of the National Park Service and the Chesapeake Conservancy. For details, select this link.
A cruise from Point Lookout to Smith Island runs on Thursdays, Fridays, Saturdays & Sundays at 10:30am from June through Labor Day. For details, select this link.
Yelp reviews of Point Lookout State Park are shown below. Read Eric K.'s review of Point Lookout State Park on Yelp
Suggested Links
Contact Information
Maryland Department of Natural Resources
11175 Point Lookout Road
Scotland MD 20687
301-872-5688
Website